LAQO Complete solution for Croatia's first digital vehicle insurance
Client
Services
Strategy
Brand development
UX & Design
Web development
Mobile app development
Content & Production
During the last decade almost all industries transformed their bussiness to fit the new digital realities of their users. Most insurance companies have continued to do business the old way. The users were left with questions like - If I can buy an apartment or book an overseas flight on my phone, why can't I do the same with car insurance?
To answer the needs of modern users, Croatia osiguranje, the largest and oldest insurance company in Croatia, started a new 100% digital insurance brand. We helped them create LAQO - a one of a kind car insurance brand in the region.
LAQO's goal has been to kickstart the transformation within insurance industry and revolutionize the user experience. Our ongoing partnership with Croatia osiguranje enabled us to understand the many intricacies of the insurance industry and learn to efficiently transform old processes into smooth and simple user experiences.
Not another insurance company
How to create a modern and transparent digitally-native insurance brand in sync with user habits? How to do it within an industry that rarely pays attention to simplicity and transparency? We started with distinct brand positioning. LAQO is not yet another insurance company. It's a brand that cares for the wellbeing and security of the people, the community, and the environment.
Our clear and concise design system ensures friendly interactions, even when the user journey involves finding information on complex legal stuff.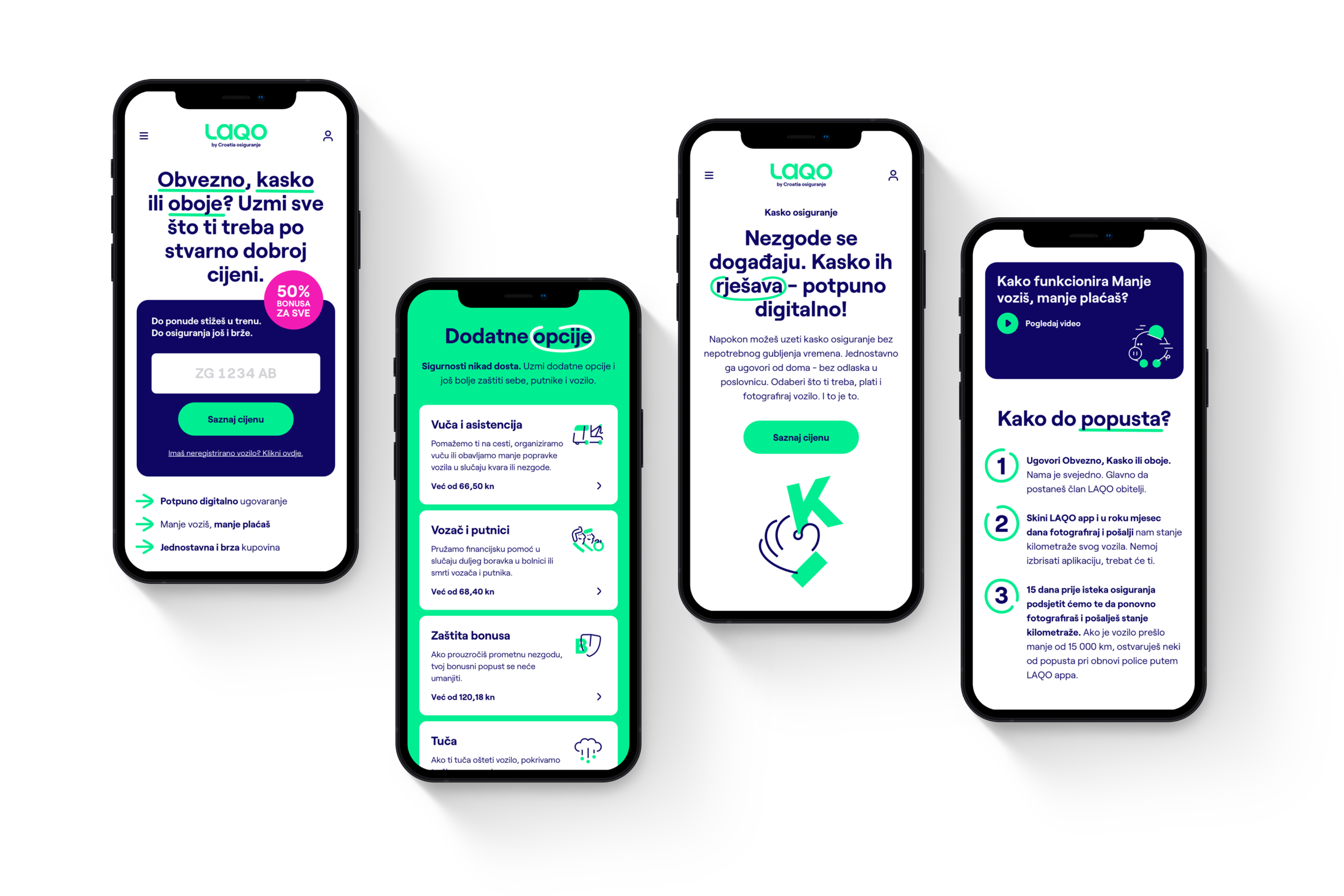 Setting the tone
LAQO has been made for a vast spectrum of users, a lot of which have never experienced a digital insurance product before. That's why simplicity has been paramount. To accentuate LAQO's hassle-free approach, its name was inspired by 'lako', the Croatian word for 'easy'. We replaced a K with a Q to give it a distinctive techy tone and make it SEO-friendly. LAQO became a synonym for innovation and simplicity in the Croatian insurance market.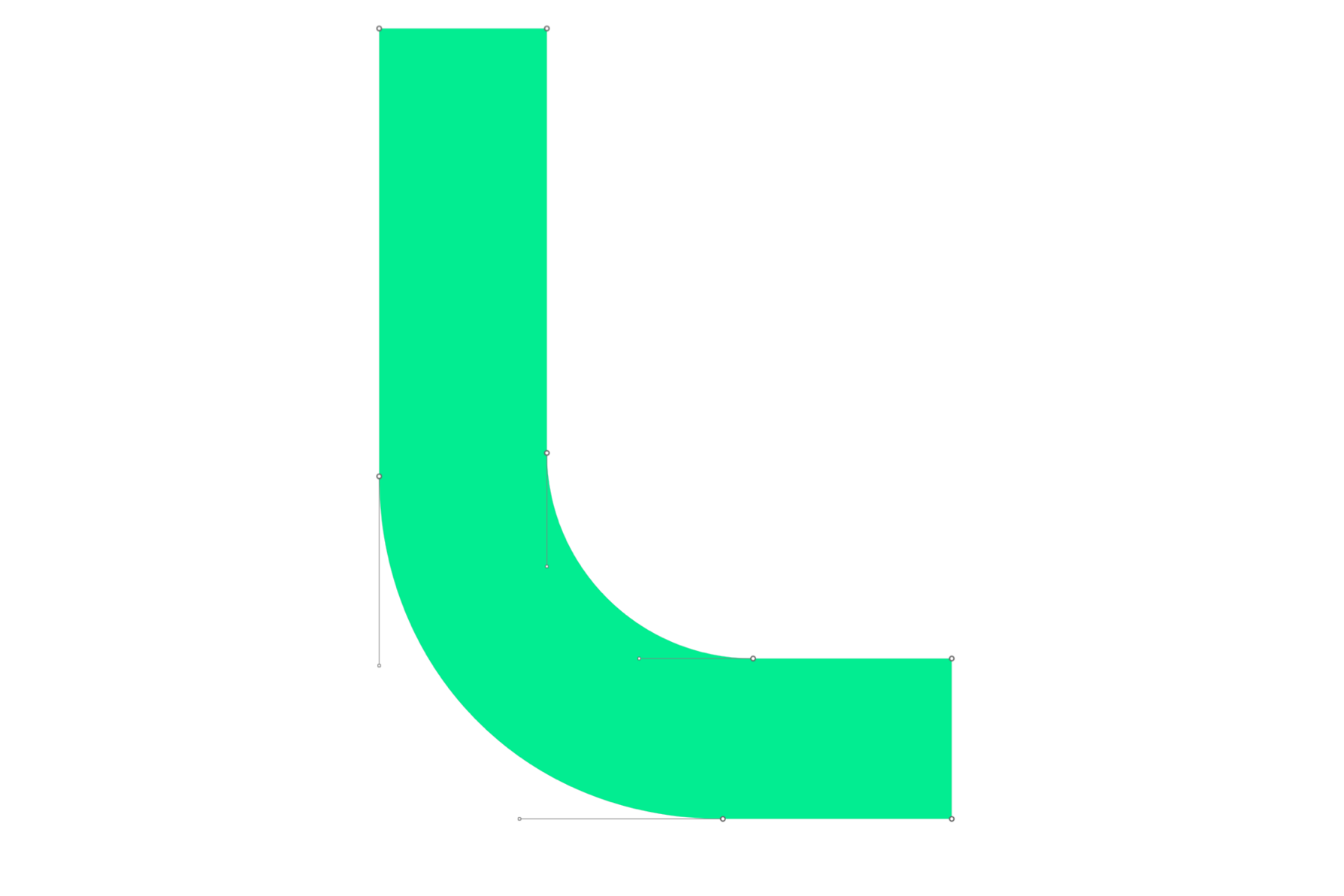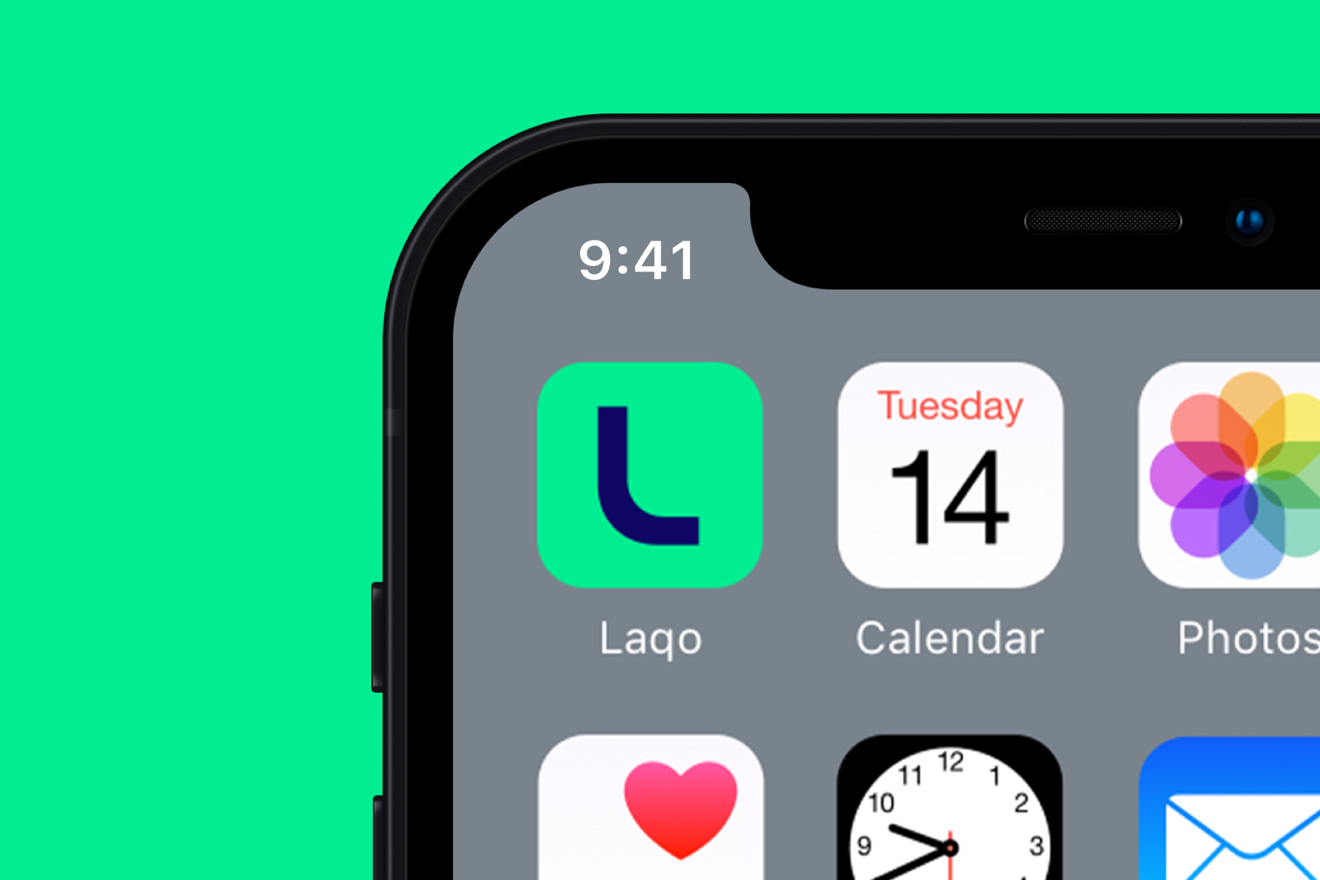 Making insurance fun
LAQO doesn't have brick-and-mortar stores. Web page and app are the only places for customer interaction. That's why we had to make sure our interfaces are fun and dynamic enough to keep the attention.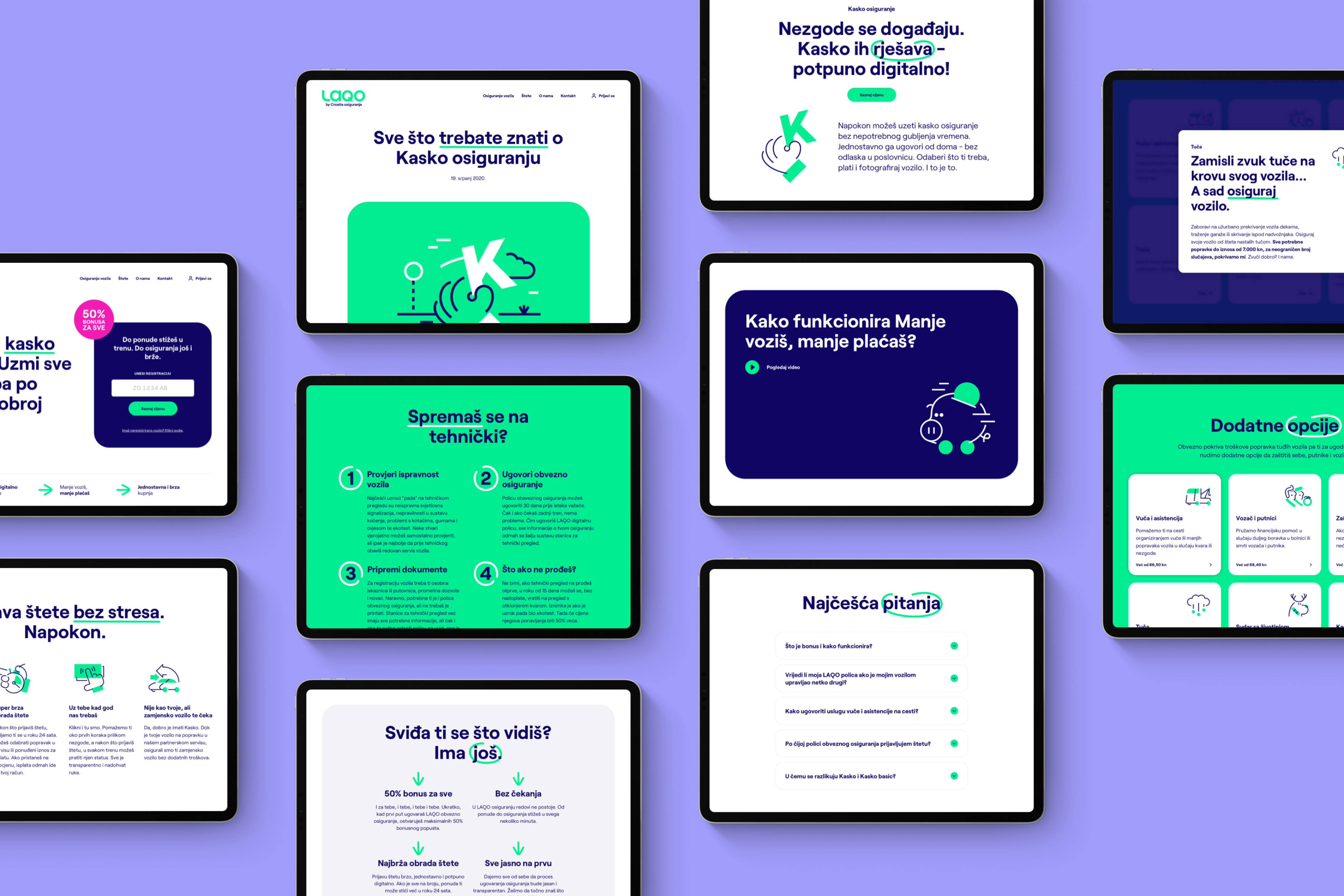 Fastest quote possible
Car insurance policies can be tricky and complex. How to make the process of getting a policy as simple as possible in the digital world? We tested each step of the customer journey on real users.
We've integrated a plethora of innovative solutions and services to unburden the user. While our back end handles a lot of complex but necessary stuff, the tasks the users perform always remain simple and quick.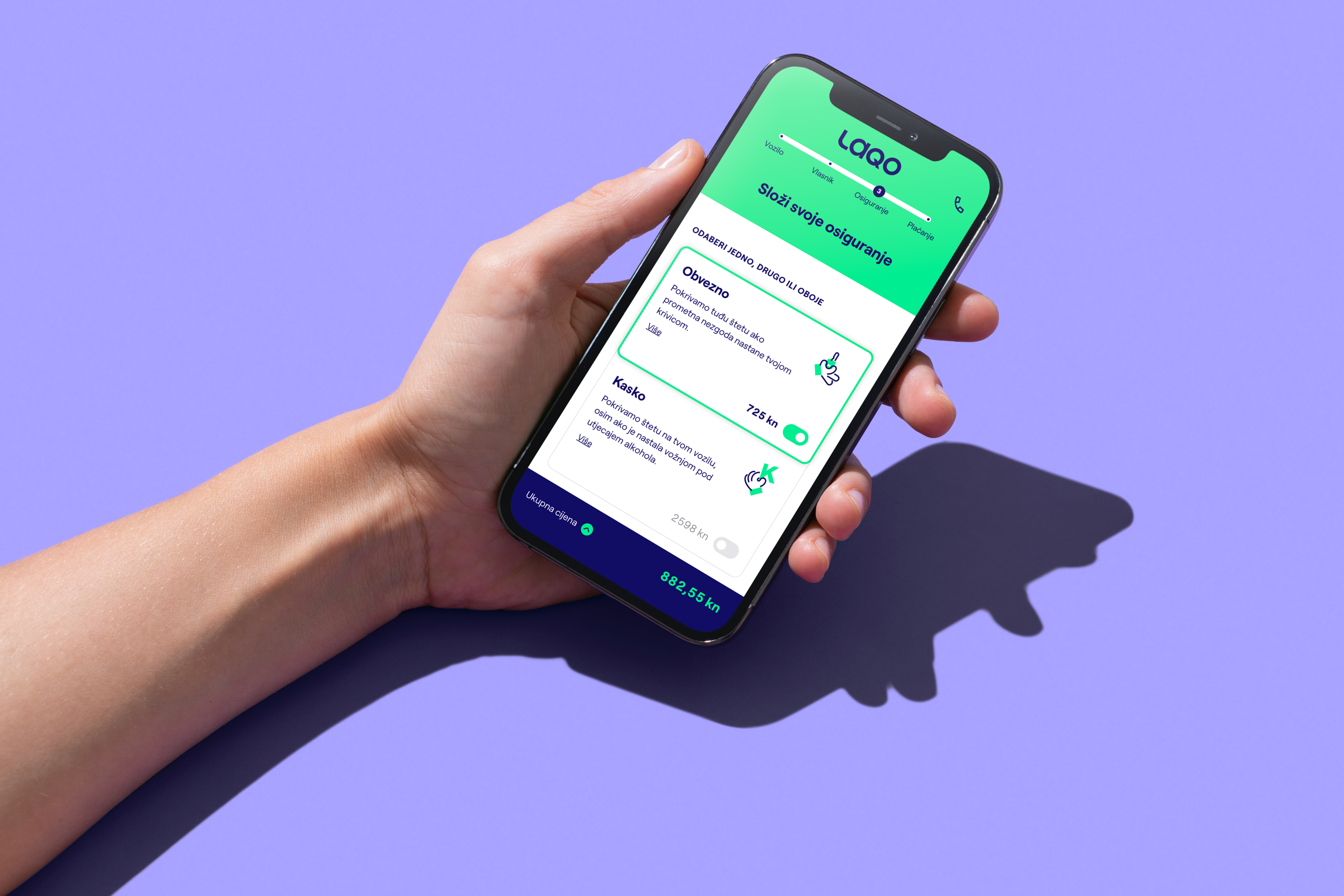 Don't make me think
The single most important element of digital insurance UX is getting the right quote. We've made the process as clear as possible - users only have to input the information they know by heart. It takes them less than a minute.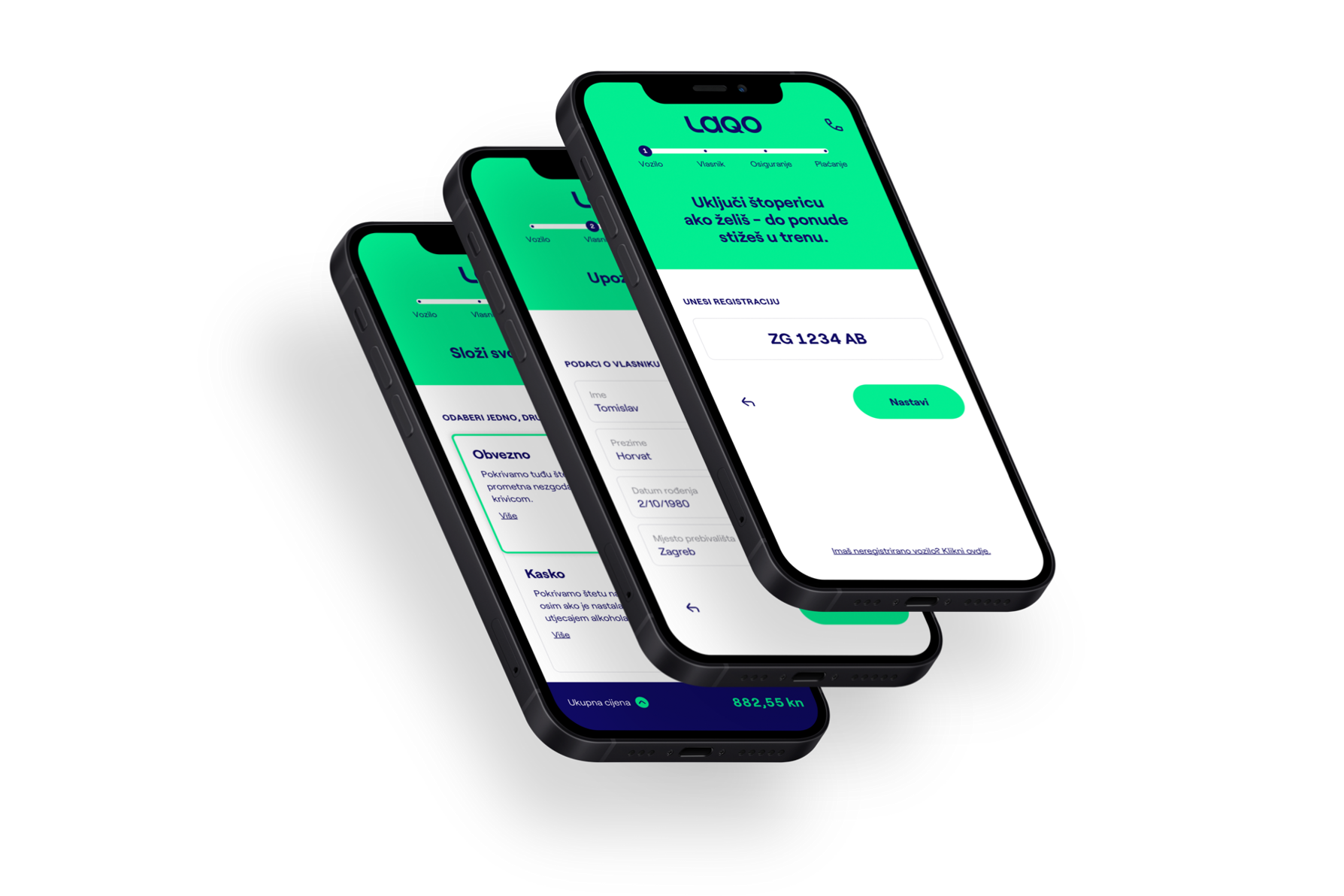 Easy and understandable
Great copywriting and UX writing was key to make complex legal terms understandable. LAQO talks precisely and concisely. We made insurance terms understandable by giving examples from everyday life. We completely banished insurance jargon from our texts. We split the processes into meaningful chunks to shift the users' focus to the task at hand and decrease the churn.
Fully digital claim report
LAQO's damage claim process is completely digital - users don't have to meet insurance agents in person.
To make the traditionally offline insurance processes digital, we collaborated closely with the team of insurance and legal experts to define the important steps.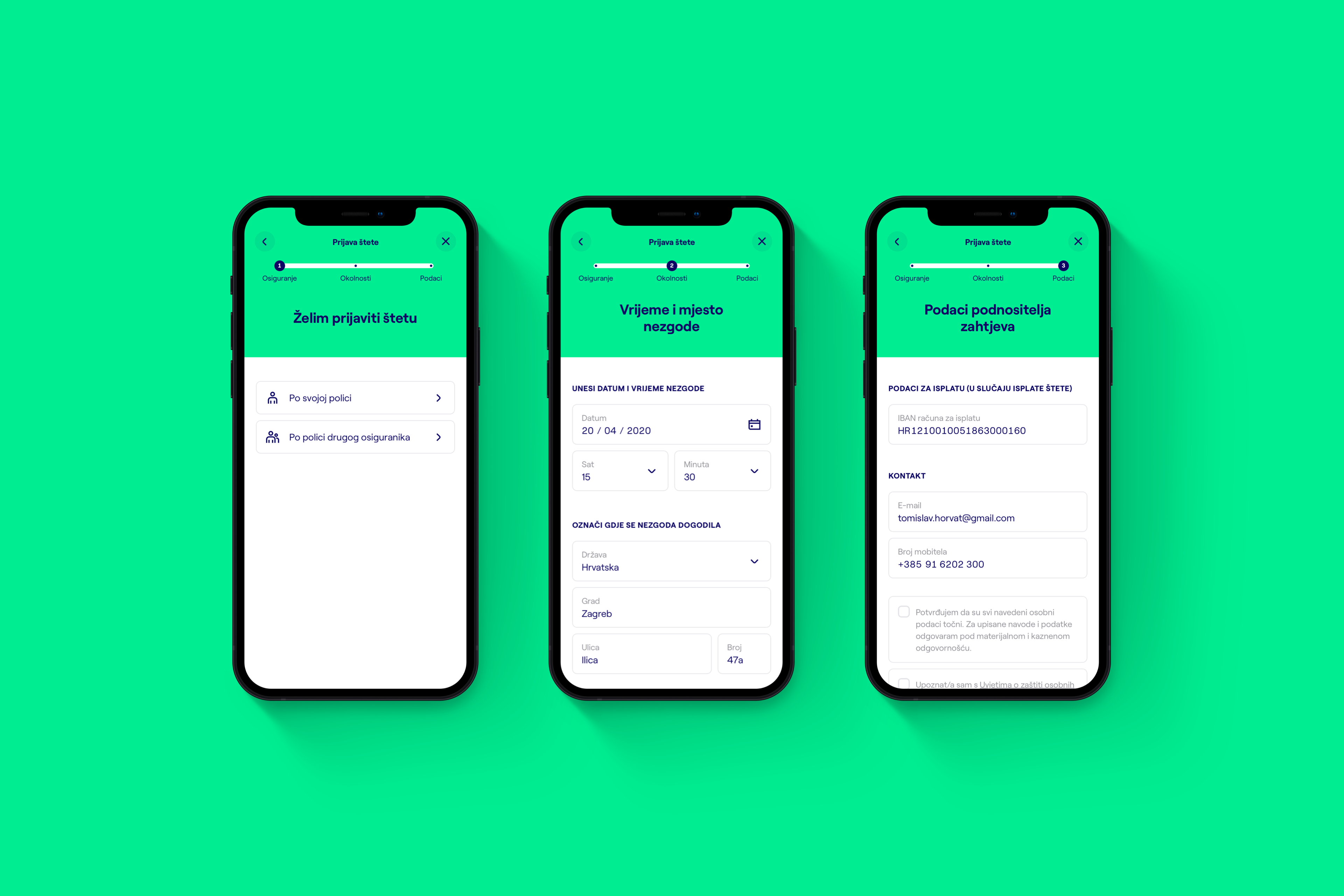 Track&trace
Each damage claim step is transparent and users can track them in real-time. If LAQO needs additional documents, the users get notified. We created modular interfaces that accommodate different types of users, from clients and lawyers to car repair shops.
Insurance app you'll use every day
LAQO lowers the probability of traffic accidents by motivating users to drive responsibly. The insurance doesn't communicate with the user only if the accident occurs, it establishes ongoing communication.
Using telematics we enable users to analyze and improve their driving experience.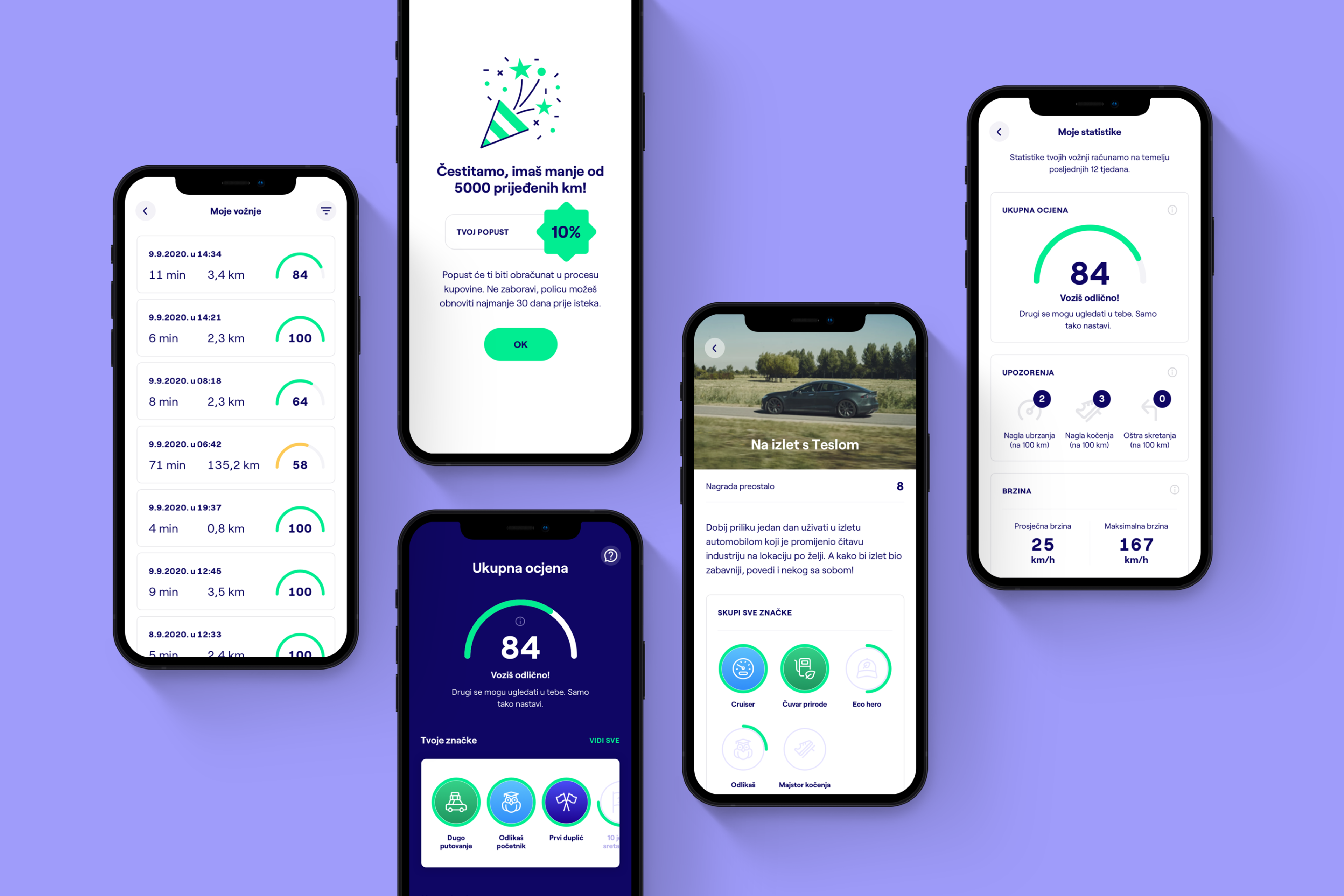 Gamified safe driving
Users get discounts and rewards by driving responsibly. LAQO app tracks driving parameters like speeding or breaking. Users get more points if their driving style is safe and responsible. We used tried gamification methods and interface design to create fun experiences the users will enjoy repeatedly, increasing the number of meaningful interactions with the app.
App instead of a shop
LAQO app enables an easy overview of all the insurance policies, one-click renewal, damage claim, and policy expiration notifications. The app tracks the driving data and changes the insurance premium accordingly. For example, if a driver drives less, she pays less.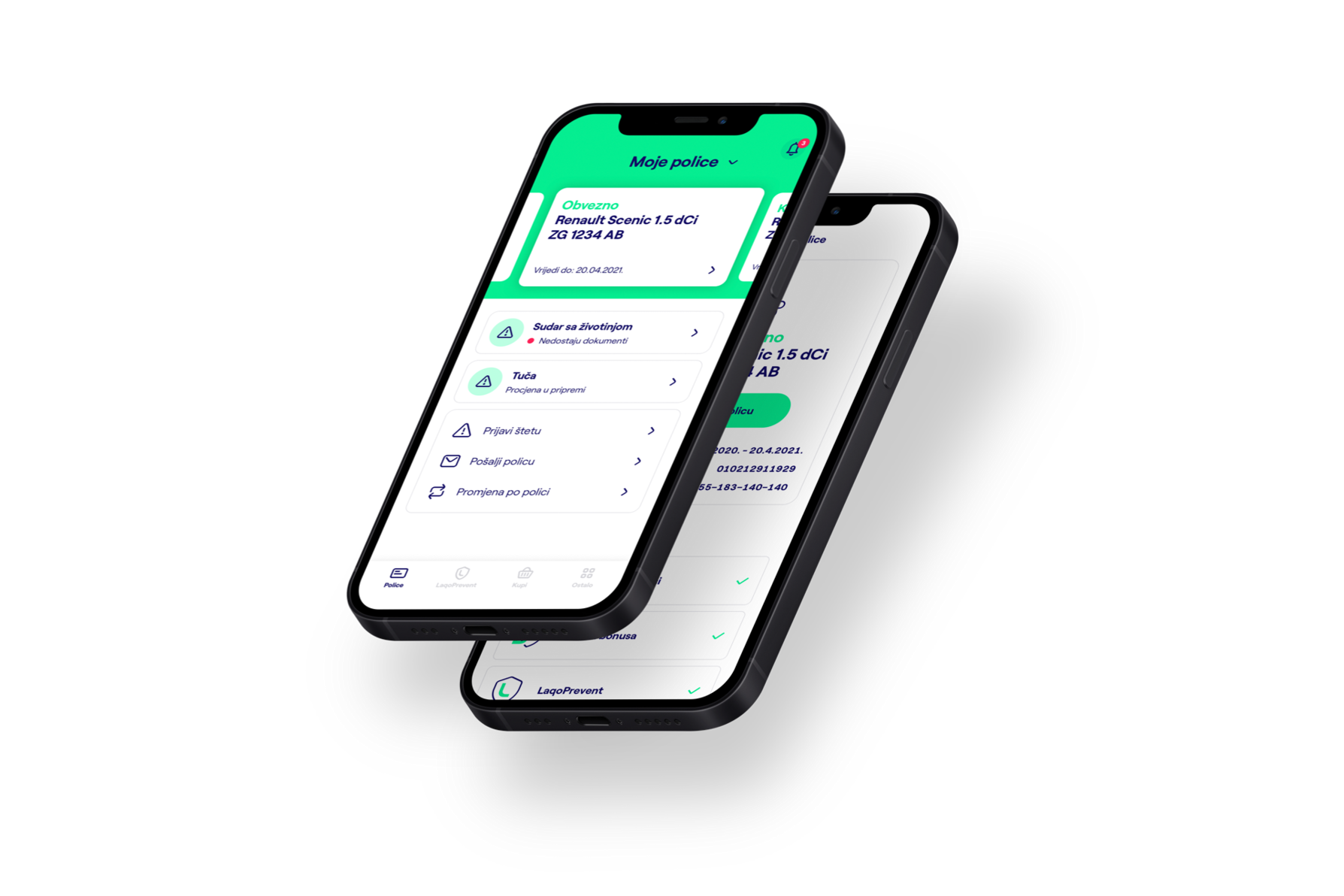 Shape was moving quickly from the get-go. They created usable prototypes so we could experience the product and fix pain points together way before the launch.
Ana Zovko

—Head of DigitalCroatia Osiguranje